OER
Tableware
Eindhoven
This tableware collection is made of porcelain clay mixed with iron sludge (OER in Dutch) extracted directly from the water production plant in Eindhoven. Iron sludge is a natural residual material released during the purification process of our tap water.
Its light beige hue with dark brown speckles is due to the iron sludge added to the porcelain as a color pigment. The outside is unglazed, giving it a soft but slightly rough texture. On the inside is a smooth protective layer of transparent glaze.
The tableware consists of six different shapes that can be combined with each other. Of course, it is food- and dishwasher-safe. The material used to color the porcelain represents a piece of consciousness. It refers to one of the most important resources of our planet; water.
Looking for larger quantities or to use this product in a project? Ask for a free quotation here. On our download page, you can find 3d models, high-res images, and other product information.
Variants:
Bowl S 12×6.5cm & Bowl M 18.5×4.7cm, Deep plate M 17.5×2.9cm &
Deep plate L 22.5×3.3cm, Plate M 20.5×1.5cm & Plate L 26.5×1.5cm
the Vij5
steps of
OER Tableware
Transparency of the production chain comes naturally to us.
For us, that doesn't just mean giving information about where something has been produced. Our chain starts much earlier: with the designer of the product!
We'll tell you the whole story. Click on the buttons to discover the different steps:
DESIGN
The OER Tableware was designed by Lotte de Raadt & Kirstie van Noort. Lotte & Kirstie both have their own design studio and share a ceramics workshop in Eindhoven at the collective NulZes. From here they start their research and produce their own collections on a small scale. The Oer project has been in development since 2016. In consultation with each other, the designers explore different possibilities for the application of iron sludge (OER in Dutch) in ceramic products. At the time, the KWR (Knowledge Center for Water Research) asked them to consider applications with the residual stream from the production process of tap water. The desire was to use this instead of letting it flow back into the sewer system.
'I like pure and minimalist. Also in my work; I like it when in my ceramic plates the material remains visible without too much fuss.'

Lotte de Raadt In VT wonen magazine
'In my work I try to make people more aware of the use and origin of our raw materials by taking them into the process behind the product or material. The results of my research are always closely linked to the work I make. In this way I not only try to arrive at a more sustainable solution, I also communicate the story to the user.'

Kirstie van Noort
This resulted in extensive and ongoing research into the potential of the material and a fascinating process to reduce the iron sludge to a usable raw material. Lotte & Kirstie managed to process the iron sludge in such a way that it can be used as a high-quality pigment in the ceramic industry. You can read exactly how this is done below, under the heading MAKING.
The first result of their research became a series of pink, red and beige tiles, colored with iron mud, these are in production at Royal Tichelaar. A follow-up step became mixing the iron sludge with porcelain to color their series of utility ceramics in a more sustainable way.
For the OER Tableware, Lotte & Kirstie use self-developed shapes and molds that they also use for various other projects. They are beautiful, practical basic shapes that let the material used speak for itself while creating a blank canvas for the (chef) cook.
CURATE
The OER Tableware Eindhoven has been part of the Vij5 collection since 2023. As far as we are concerned, the story of the OER dinnerware is really about the material used and is a great example of "research-based design. Of course, it is also beautifully designed, but we find at least as interesting that it helps us think about how valuable our resources are. By using waste streams and seeing beauty in them, we take better care of our planet and take more responsibility for every step we take. In this way, the tableware brings us closer to something we often take for granted. It sparks conversations and makes it easier to understand how we are connected to the stuff around us.
Iron sludge is not only released in the Eindhoven region. It can be collected in different places. Each location gives a different tint to the ceramic products of the OER project. Local production helps reduce our carbon footprint and contributes to preserving the environment and our natural resources. In addition, it gives a boost to the local economy. This makes us proud that Vij5 represents the "OER dinnerware Eindhoven.
"The OER Tableware is a great example of 'research-based design' as far as we are concerned.

Arjan & Anieke, Vij5
TRANSLATE
The biggest translation for the OER Tableware is in the super local material research that preceded this product. By researching and exploring the qualities and possibilities of iron sludge from the Eindhoven region and then experimenting with ceramics, this beautiful material was created. For this product, of course, the making process had already been developed by Lotte & Kirstie and we also did not have to look for a suitable producer. Together we structured the shapes in the series. Above all, we are very happy to be able to spread this beautiful local product and its underlying message through the Vij5 collection!
'We can be quite careful with our resources in this day and age'

Lotte de Raadt In VT wonen magazine
CREATE
The OER Tableware Eindhoven is made by Lotte & Kirstie themselves in small series and locally in their own ceramics studio. They use the material porcelain mixed with iron sludge (also known as 'oer' in Dutch) that they extract directly from the water production plant in Eindhoven.
At the water production plant, groundwater is pumped up and processed into drinking water. This is located in wells hundreds of meters deep below the surface. The soil has acted as a filter as the water seeps through it very slowly. The water's path often takes thousands of years, depending on how deep it is in the soil. Most of the oxygen in the water has disappeared and metals such as manganese and iron have dissolved.
To turn groundwater into drinking water, it is intensively filtered. During this filtering process, various residues are released. One of these is naturally formed iron oxide-containing water, or primal. This material is characterized by a deep reddish-brown color.
At the production site in Eindhoven, there is currently no application for the iron sludge and so this iron oxide-containing water is seen as waste and flushed back to the sewer. For the OER project, Lotte & Kirstie tap this turbid water from the water production company's so-called buffer pond to use in their products.
The iron sludge is processed into pigment in their own workshop. First, it is filtered again and dried. This creates chunks that are ground and sieved into a rust-like powder. This pigment is mixed through liquid porcelain clay and poured into plaster molds. A smooth protective layer of transparent glaze is applied to the inside of the molds to make the tableware water-resistant and food-safe. The products are then fired in a ceramic kiln at 1250˚C. The heat discolors the iron pigment to a beautiful beige color containing small dark brown speckles.
In the material passport you can find where and by whom the different parts of this product are made.
MATERIAL PASSPORT
OER Tableware Eindhoven
Material
Porcelain clay with OER sludge and transparent glaze
Dimensions
Bowl S 12×6.5cm
Bowl M 18.5×4.7cm
Deep Plate M 17.5×2.9cm
Deep Plate L 22.5×3.3cm
Plate M 20.5×1.5cm
Plate L 26.5×1.5cm
Packaging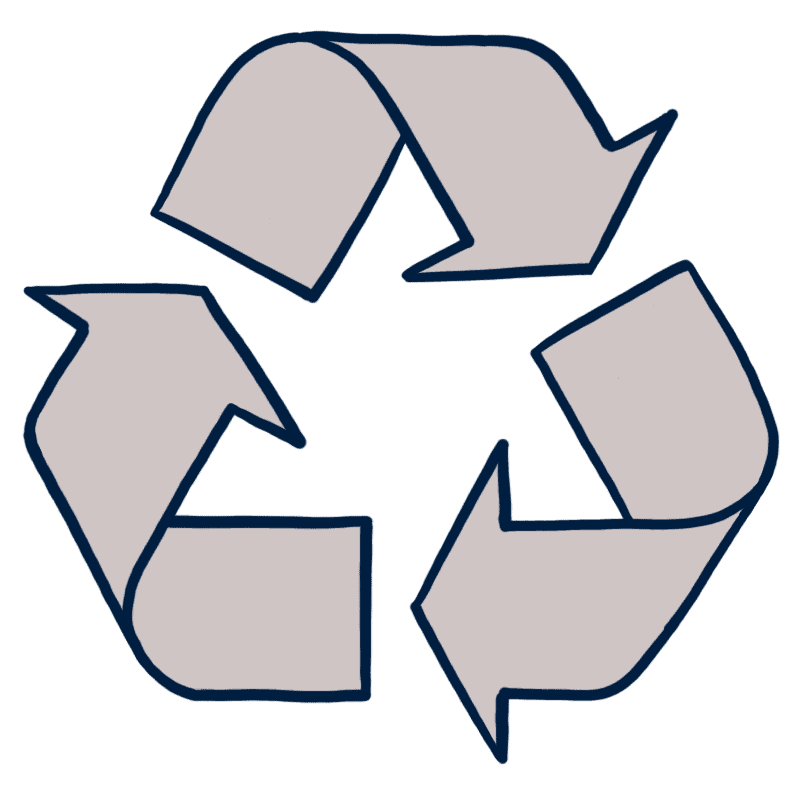 Made-to-measure brown cardboard packaging made from 80% recycled cardboard, produced in the Netherlands
In Vij5 collection since 2023
SHARE
Would you like to see this product in real life ?
Come to our showroom in Eindhoven or visit one of our ambassadors or other sales points.
In need of larger numbers or application in a project?
Please contact Arjan and request a quotation here.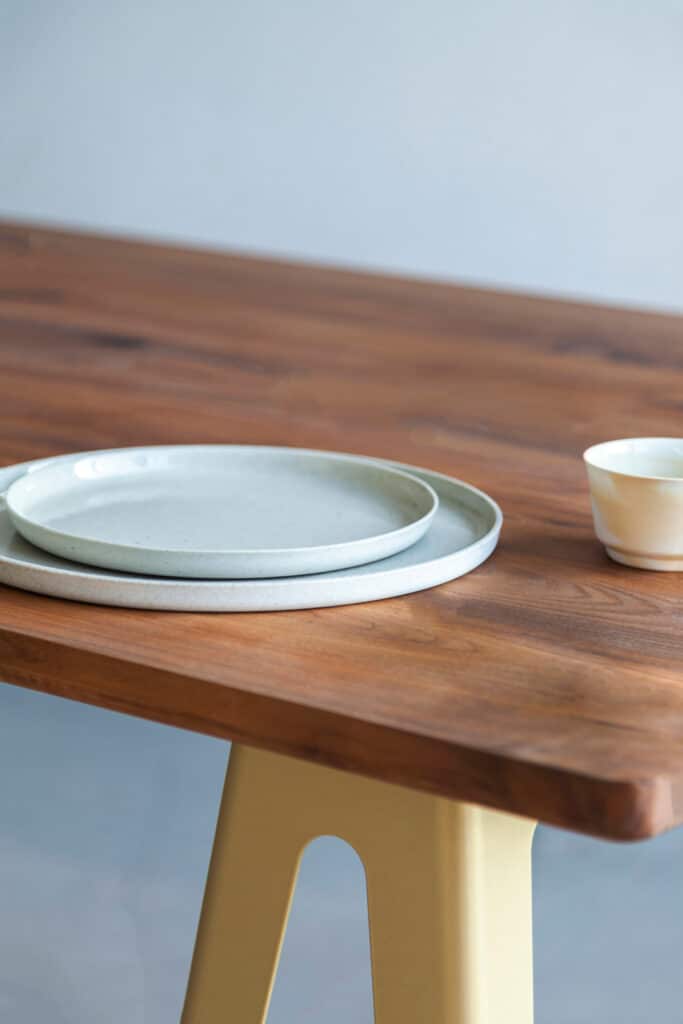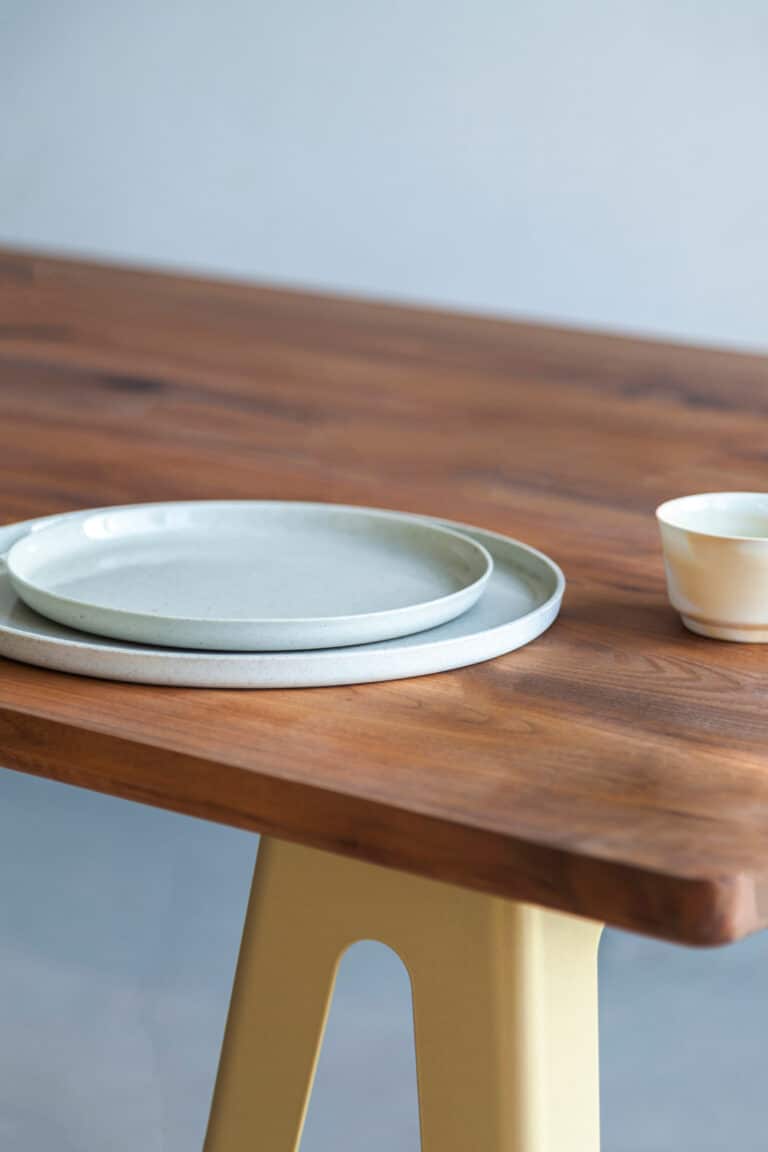 Vij5 webshop
All Vij5 products can of course also be ordered directly from our own webshop:
You can visit our showroom and workshop to see, feel and experience our products in real life! We work from a characteristic warehouse on the Hallenweg in Eindhoven. Here you can see and buy all Vij5 products and we are happy to provide you with personal advice.
Vij5 Showroom open by appointment: our showroom is open by appointment for press, interior professionals and consumers. Would you like to visit us as a consumer? Preferably only make an appointment if you are interested in a specific product.
You can make an appointment for this in our online agenda.