Tilt
Bar
Stool
The Tilt barstool shows how a simple intervention can create comfort and stability.
The wood of the seat and legs is simply tilted at an angle of 3 degrees to create a comfortable seat and solid stability in the construction. The positioning of the footrests ensures that every user intuitively knows how to sit on this bar stool in order to experience an unexpectedly pleasant sitting posture.
Looking for larger quantities or to use this product in a project? Ask for a free quotation here. On our download page, you can find 3d models, high-res images, and other product information.
the Vij5
steps
of the
Tilt Bar Stool
Transparency of the production chain comes naturally to us.
For us, that doesn't just mean giving information about where something has been produced. Our chain starts much earlier: with the designer of the product!
We'll tell you the whole story. Click on the buttons to discover the different steps:
DESIGN
The Tilt Bar Stool is designed by Floris Hovers. Floris lives and works in Raamsdonksveer, where he also grew up. His designs surprise by their disarming simplicity. No abstract minimalism, but the end result of a long process of reduction.
Within the basic components from which a wooden bar stool is usually constructed, Floris was looking for a simple way to make a straight, hard surface pleasant to sit on. By tilting the wood of the seat and legs at an angle of 3 degrees, he created both a surprisingly comfortable seat and a solid stability in the construction of the legs.
"The most important skill for a designer: converting your own passion and amazement into something that becomes understandable and usable for others".

Quote from the book 'Hovers' Manual of Things'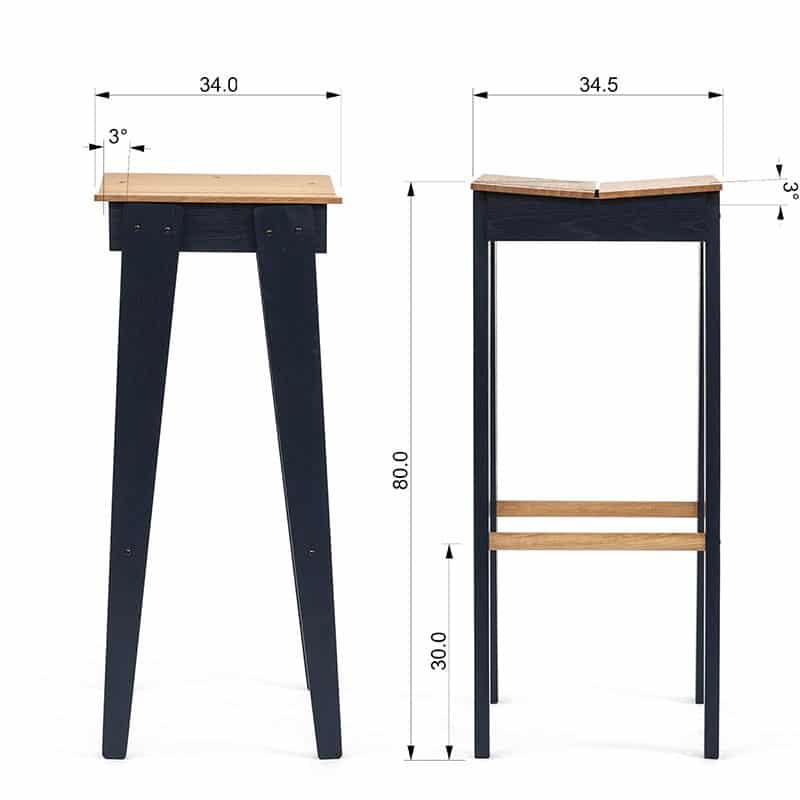 CURATE + TRANSLATE
The Tilt Barstool has been part of the Vij5 collection since 2019. Commissioned by Vij5, Floris Hovers designed this barstool for the official Dutch Design Week Business Lounge in 2018. The stool was created in a relatively short period of time and is the result of a joint effort by Floris, Vij5, and our local wood producer.
The stool owes its name, but also a unique look & feel, to the fact that the wood of the seat and legs is tilted 3 degrees. In consultation with Floris we gave the stool fresh colours after the Dutch Design Week and added it to the Vij5 collection.
CREATE
The Tilt bar stool is made of solid PEFC certified oak and produced in the region of our studio in Eindhoven. For protection and durability the seat and footrests are treated with Osmo hard-wax oil.
The frame of the stool is standard available in untreated oak for a natural look. Optionally, the frame can also be treated with a lacquer in four standard colours, a custom colour on request or with Osmo hard-wax oil so that all surfaces have the same finish.
In the material passport you can find where and by whom the different parts of this product are made.
The Tilt Bar Stool can also be made at another height on request, such as 65 or 75cm.
MATERIAL PASSPORT
Tilt Bar Stool
Solid oak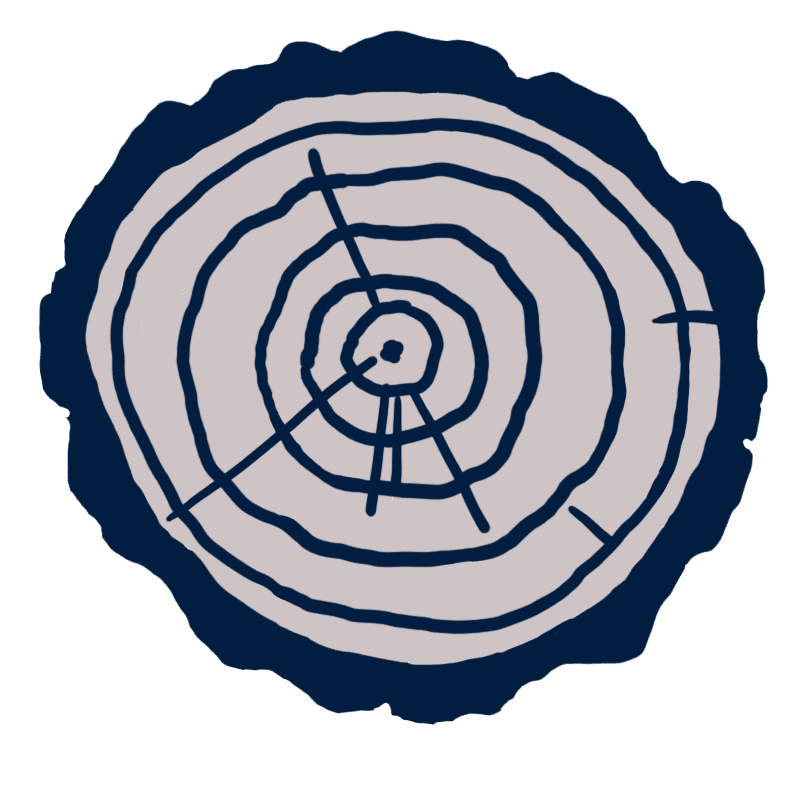 Produced from PEFC certified oak from France, processed by our permanent furniture workshop in Kelpen-Oler (NL).
Finishing and Osmo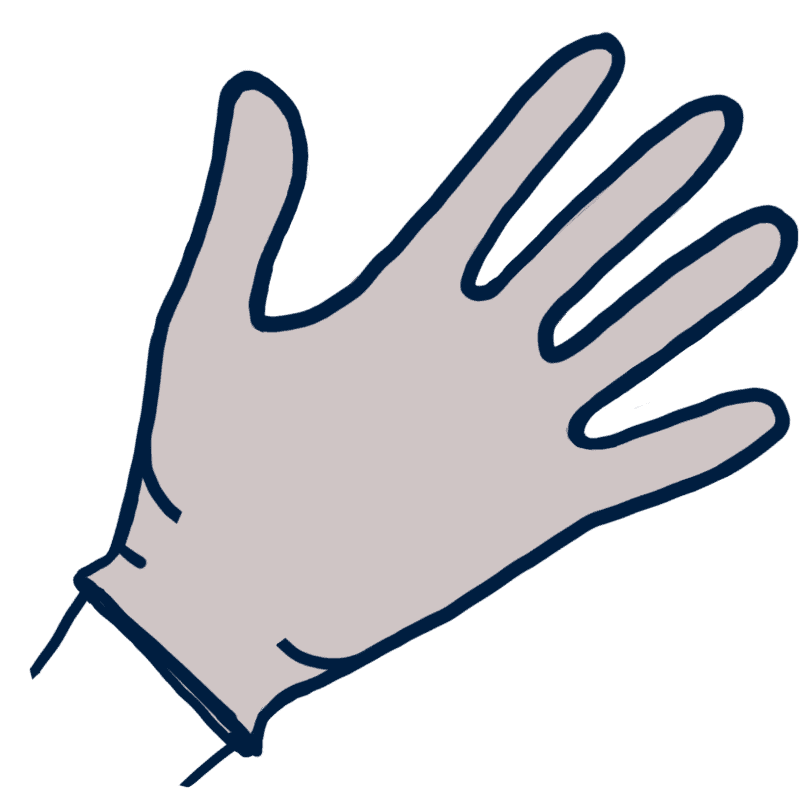 The finishing and assembly of the stools and the oiling with Osmo hard-wax oil is done at Vij5.
Standard treatment with Osmo hard-wax oil. This preserves the oak colour, is water- and dirt-repellent and resistant to stains from red wine, coffee, etc.
Spray by colour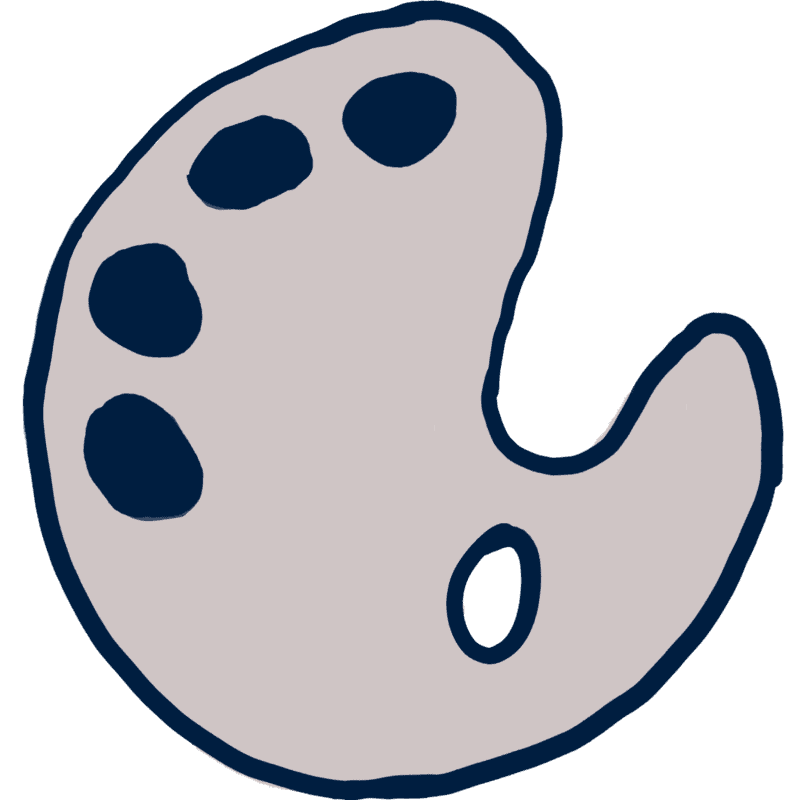 If the stools are painted on colour, it is done in the workshop of Floris Hovers in Raamsdonksveer (NL). This can be done in our standard colours, but custom colours are also possible on request!
Dimensions
Seat surface 34 x 34.5 cm
Seat height 80 cm
Color options seat-surface & footrest always treated with Osmo hard-wax oil
RAL9002 grey-white
RAL1000 green-beige
RAL5011 steel-blue
RAL3012 beige-red
other colours on request!
In Vij5 collection since 2019
SHARE
Would you like to see this product in real life ?
Come to our showroom in Eindhoven or visit one of our ambassadors or other sales points.
In need of larger numbers or application in a project?
Please contact Arjan and request a quotation here.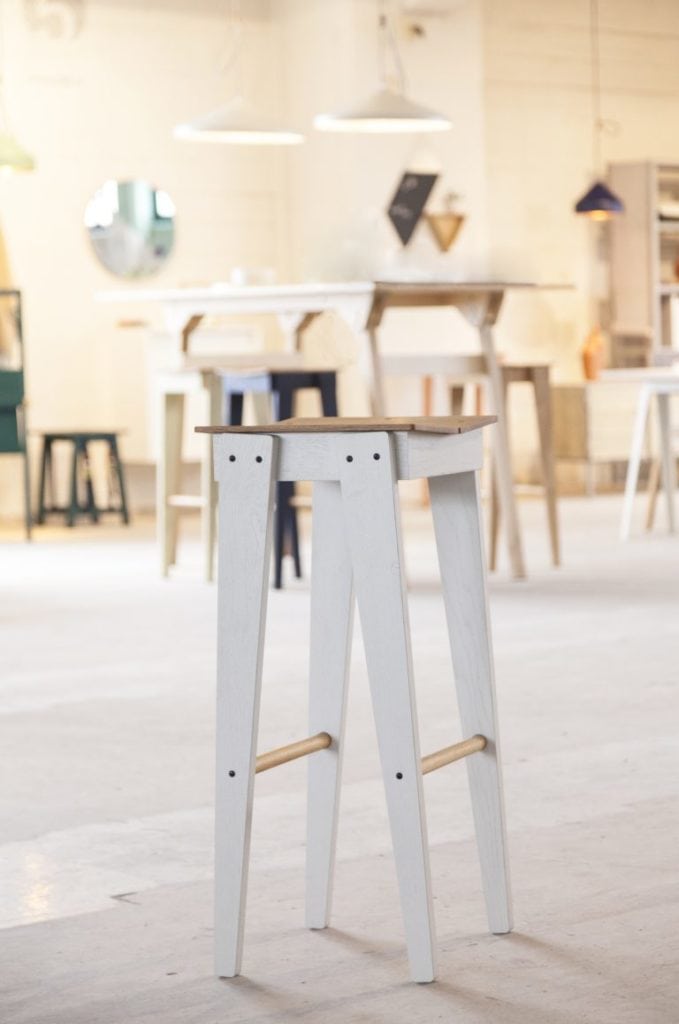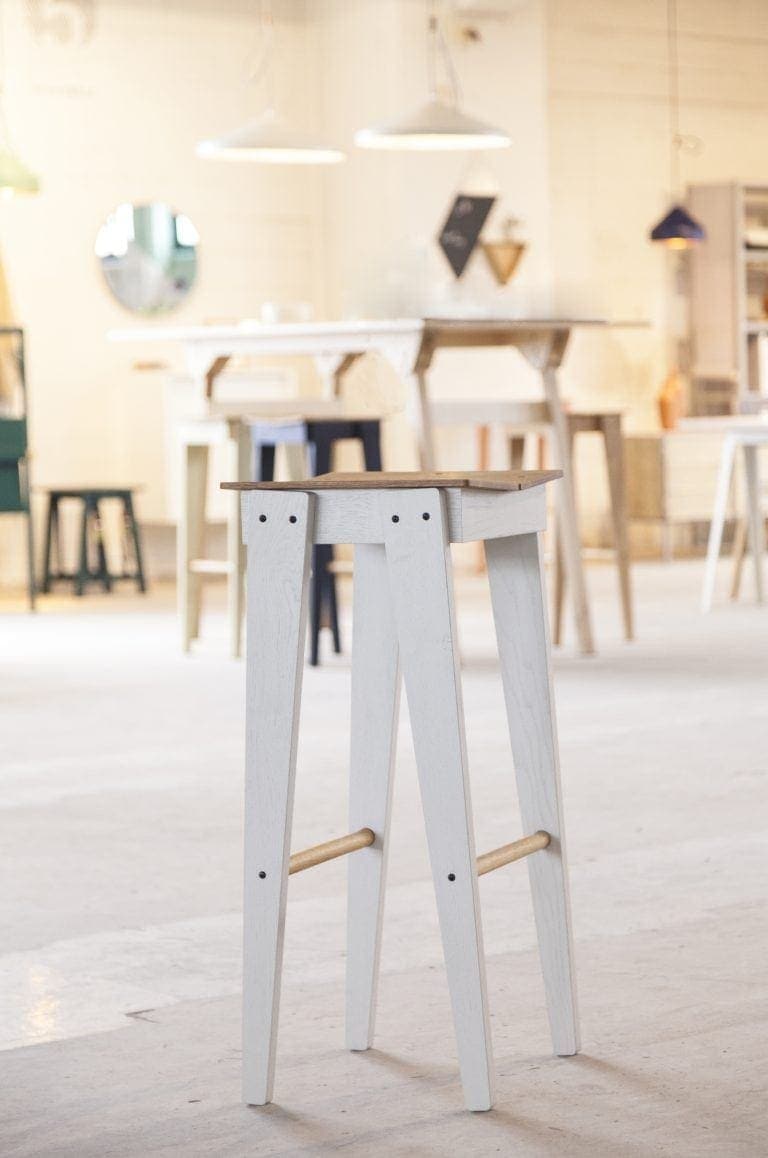 Vij5 webshop
All Vij5 products can of course also be ordered directly from our own webshop:
You can visit our showroom and workshop to see, feel and experience our products in real life! We work from a characteristic warehouse on the Hallenweg in Eindhoven. Here you can see and buy all Vij5 products and we are happy to provide you with personal advice.
Vij5 Showroom open by appointment: our showroom is open by appointment for press, interior professionals and consumers. Would you like to visit us as a consumer? Preferably only make an appointment if you are interested in a specific product.
You can make an appointment for this in our online agenda.
Ambassadors
A Vij5 Ambassador is, just like us, a big fan of the Vij5 collection. It is not just a point of sale, but a shop that knows just a little bit more about our products. There is always someone present as a point of contact who can tell you everything about the Vij5 collection!
Vij5 Ambassadors are specialists in e.g. our lighting, furniture and/or accessories and will gladly provide you with advice. There is a nice selection of products from our collection in the shop. When an item is not in stock in the store an Ambassador can always order it for you.
Points of sale
Besides Ambassadors, Vij5 also has a selected network of points of sale within the Netherlands and abroad. Several (online and offline) design shops, interior design and lighting consultants carry a smaller part of our collection. They can also advise you about our products and can order items for you if they are not directly available from stock.