Elementiles are a series of decorative wall elements that represent different functions. With the variety of Elementiles you can create a decorative yet functional composition on the wall in no time with just four basic forms that can be easily assembled. The different Elements are all sold separately so that you can put together your own set.
Looking for larger quantities or to use this product in a project? Ask for a free quotation here. On our download page, you can find 3d models, high-res images, and other product information.
the Vij5
steps
from the
Elementiles
Transparency of the production chain comes naturally to us.
For us, that doesn't just mean giving information about where something has been produced. Our chain starts much earlier: with the designer of the product!
We'll tell you the whole story. Click on the buttons to discover the different steps:
DESIGN + TRANSLATE
The Elementiles have been designed and developed by Ontwerpduo. They were inspired by wooden children's toys; simple shapes with endless possibilities. This also became the basic idea for these elementary wall shapes. With a professional approach, Ontwerpduo gave the items not only a beautiful form but also a function: mirrors, magnetic boards, cork boards, chalkboards, oak cabinets and frames. They also immediately thought about how best to produce the items: partly in their own workshop and partly in cooperation with production partners.
CURATE
The Elementiles has been part of the Vij5 collection since 2015. Flexibility is a theme that recurs regularly in the products of our collection. We therefore like the playful character of the Elementiles. The four basic shapes that can be positioned in different ways by rotating them, give you the opportunity to create your own personal composition on the wall in the living room, kitchen, bedroom, bathroom, or wherever you want!
Tip: The steel frame is also great to use as a separate item. It creates a beautiful, minimalistic and graphic element on the wall. It comes with a wooden board that is custom made for this product. This gives the frame an extra (fun) function to display small, fine, beautiful and special objects. Extra special: you can use the shelf in two directions!

Arjan & Anieke
CREATE
The Elementiles consists of different materials and components. Some elements are made or assembled by Ontwerpduo itself and for some items the production is outsourced.
In the material passport you can find where and by whom the different parts of this product are made.
MATERIAL PASSPORT
Elementiles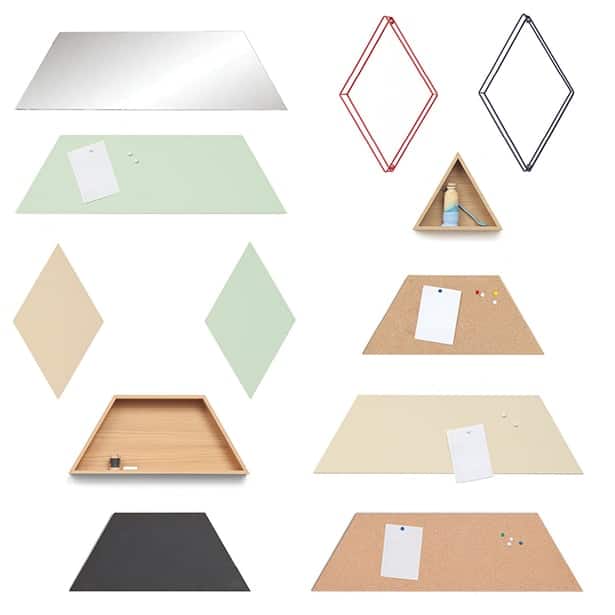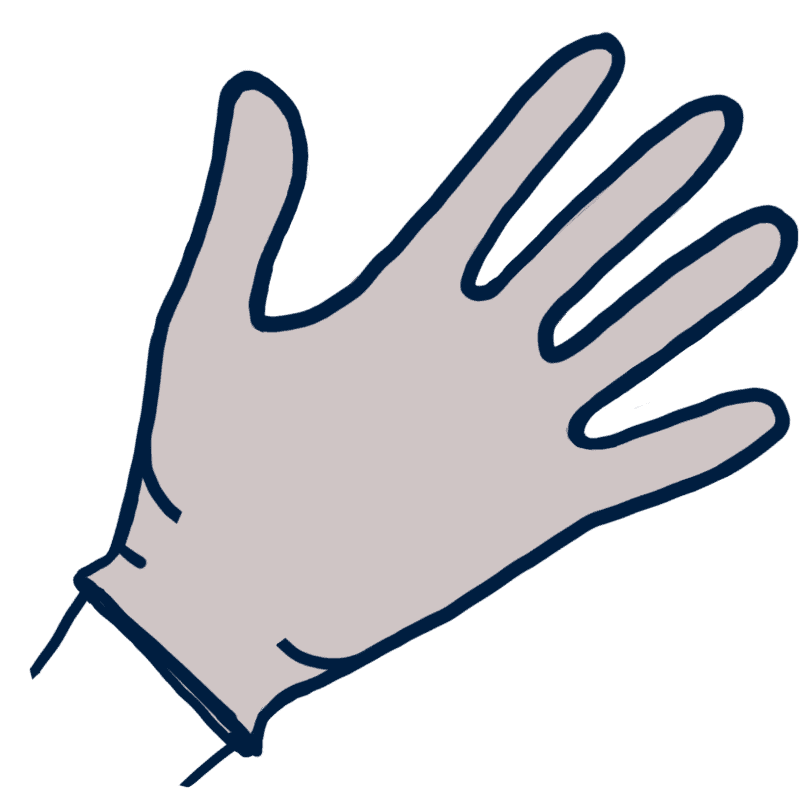 Elementiles Massive oak cabinet
Made by Ontwerpduo in Eindhoven (NL)
Elementiles Mirrors
CNC-cut mirror glass, made in Belgium
Elementiles Magnetboard
Metal plate with coloured lacquer coating, made by Ontwerpduo in Eindhoven (NL)
Elementiles Chalkboard
Made of MDF with chalkboard paint, produced by Ontwerpduo in Eindhoven (NL)
Elementiles Pinboard
Cork board material, produced by Ontwerpduo in Eindhoven (NL)
Elementiles Wire frame
Made of steel with Powder coating in Valkenswaard (NL)
Dimensions
Height landscape shape approx. 22cm
Medium 50cm long
Large 75cm long
Diamond shape vertical approx. 43cm
In Vij5 collection since 2016
SHARE
Would you like to see this product in real life ?
Come to our showroom in Eindhoven or visit one of our ambassadors or other sales points.
In need of larger numbers or application in a project?
Please contact Arjan and request a quotation here.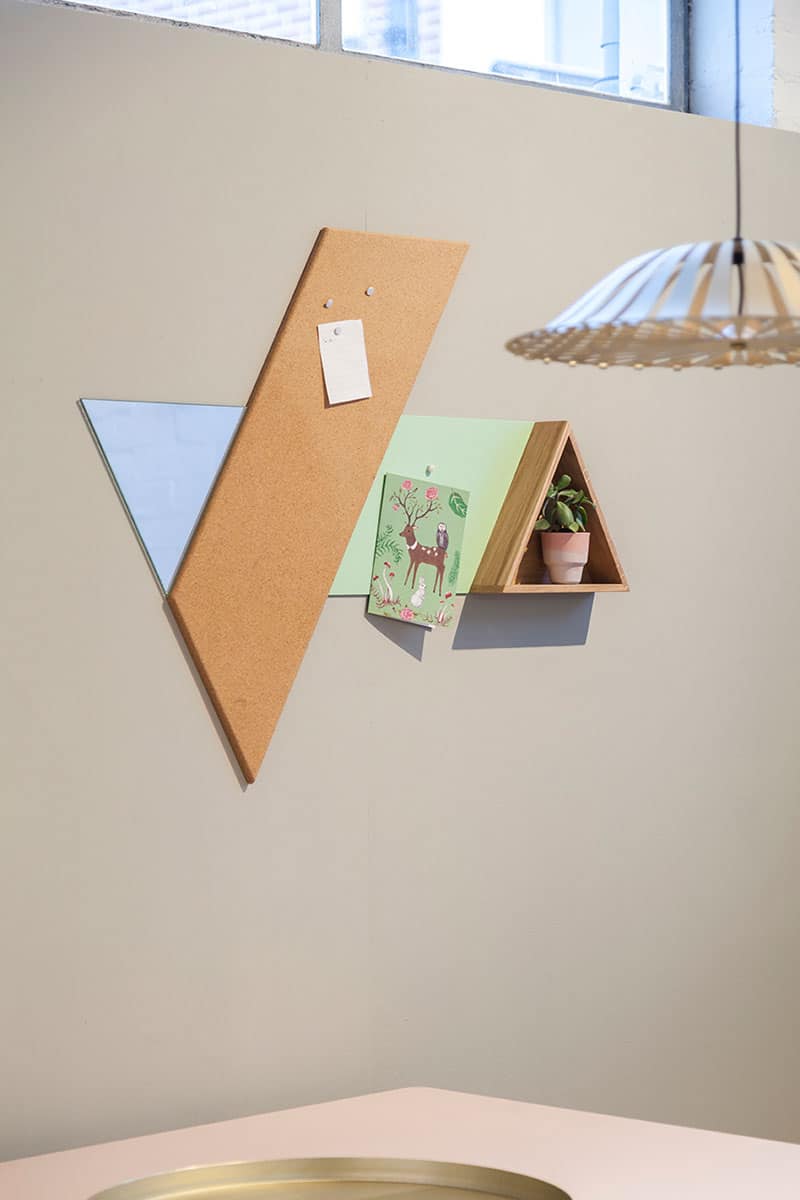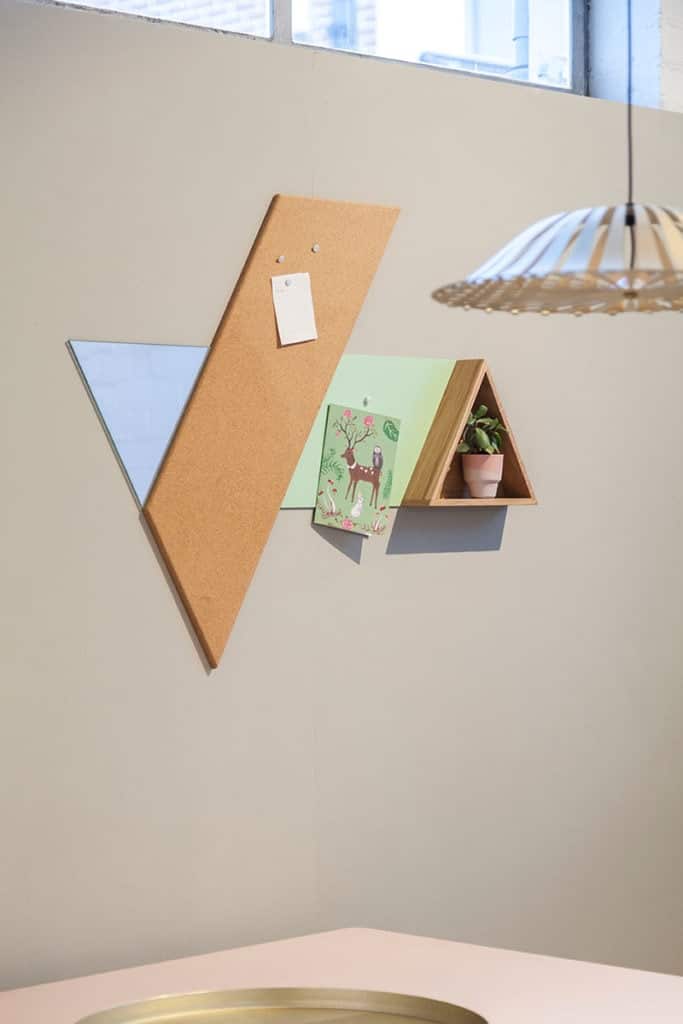 Vij5 webshop
All Vij5 products can of course also be ordered directly from our own webshop:
Vij5 webshop
All Vij5 products can of course also be ordered directly from our own webshop:
You can visit our showroom and workshop to see, feel and experience our products in real life! We work from a characteristic warehouse on the Hallenweg in Eindhoven. Here you can see and buy all Vij5 products and we are happy to provide you with personal advice.
Vij5 Showroom open by appointment: our showroom is open by appointment for press, interior professionals and consumers. Would you like to visit us as a consumer? Preferably only make an appointment if you are interested in a specific product.
You can make an appointment for this in our online agenda.
Ambassadors
A Vij5 Ambassador is, just like us, a big fan of the Vij5 collection. It is not just a point of sale, but a shop that knows just a little bit more about our products. There is always someone present as a point of contact who can tell you everything about the Vij5 collection!
Vij5 Ambassadors are specialists in e.g. our lighting, furniture and/or accessories and will gladly provide you with advice. There is a nice selection of products from our collection in the shop. When an item is not in stock in the store an Ambassador can always order it for you.
Points of sale
Besides Ambassadors, Vij5 also has a selected network of points of sale within the Netherlands and abroad. Several (online and offline) design shops, interior design and lighting consultants carry a smaller part of our collection. They can also advise you about our products and can order items for you if they are not directly available from stock.