Coatrack by the Meter (vertical)
These locally produced coat racks are made with a tube laser from a square metal tube from which hooks are cut. This method creates minimal residual waste in production. The cutouts are bent outward creating the coat hooks. The product is then powder coated.
The Coatrack by the Meter was designed by Maarten Baptist. After the success of the horizontal version, Maarten decided it was time for a vertical & freestanding coatrack. Based on the same principle, he developed a formal language in which coat hooks are created in an organic way.
The freestanding coatrack has four legs (two are welded to the stand, two are easily attached with bolts) and hooks from top to bottom. This allows both adults and children to easily hang their coats on it. With the addition of a mirror and a small shelf to the wall coatracks, you can quickly check your hair or touch up your makeup before heading out the door, or leave your keys and accessories in a permanent place when you get home.
For now, the vertical versions are only available in black RAL9017.
Delivery:
Parts in stock, made to order/shipped in approx. 3-5 working days
Until Christmas: Free shipping within the Netherlands on all accessories, lighting & small furniture (except Christmas cards, rapeseed wax candles and loose refill sets).
Free shipping of accessories & lighting to Belgium, France, Germany, Luxembourg & Denmark from €150, the rest of Europe from €250.
Description
These vertical coatracks complement the existing 'Coatrack by the Meter' system, designed by Maarten Baptist. Besides the well-known horizontal version, he designed a standing coatrack and a vertical version for the wall. Both are also very suitable for smaller (living) spaces.
The Coatrack by the Meter system is a nod to the wall coatracks of the Shakers, who placed their coatracks along the entire length of the wall. The coatracks are available in different lengths that you can link together as you see fit, but of course, also form a beautiful wall element on their own. These vertical wall coatracks can be connected to the horizontal coatracks via our online configurator with corner and connector pieces. This way you can create playful lines on your wall, from left to right, even around the corner, and now also from top to bottom. In this way, you can make your coatrack and hallway even more fun and functional.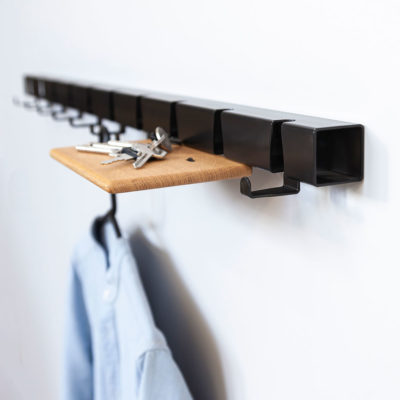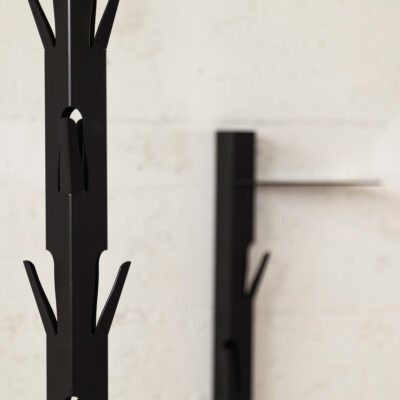 Want to know more about this product?
Discover the Vij5 steps in the process of this vertical Coatrack by the Meter on the collection page with more images and background information or check out the horizontal version of the Coatrack by the Meter here.
An overview of all our coat racks and wall hooks in the coat rack category. 
Specifications
| | |
| --- | --- |
| designer | Maarten Baptist |
| version | 50cm with shelf (10x20cm), 50cm with mirror (30x30cm), 100cm vertical, standing coat rack 180cm |
| material | powder coating, steel |
| production | checked and packed by Vij5, locally produced in the Netherlands |
| in collection | since 2022 |
| colour | RAL9017 black |